Hey'a readers, writers, spatulas! .....spatulas? *grimace of fear* Just wait, Frank. Let me finish the post first. I can't write posts while weeping and gnashing my teeth.
Anyway, some exciting news coming up. Firstly, the long anticipated end to the Blood of Kings trilogy (Jill Williamson)--From Darkness Won--is coming out APRIL FIRST. April Fool's Day, unfortunately, but I'm hoping this isn't a joke. o_O
Check out the epic cover art. :|
GAAAAAAAAAAAAAAHHHHHHHHHHHHH!!!!!!!!!!!!
I am scrambling for money right now. I can't wait for this....wow, it looks so EPIC.... *stares* If you haven't read the first books in this series yet, GO AND ORDER THEM RIGHT NOW. I'm serious. They are THAT good. Some of the best writing I've ever read in my reading career: no joke.
Other news, there's a giveaway going on! It isn't mine, but it is epic nonetheless. The Director is giving away a whole slew of stuff in celebration of spring break, I believe. Including the Roman Britain Trilogy (from which was made the movie "The Eagle", I believe). Which I really really really want to read. :| So beware--you'll have to fight for it.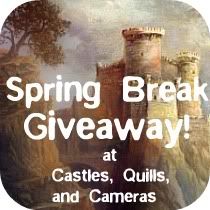 That's about all. :) I'll try to pull together something meaningful sometime soon. Until then, adieu!